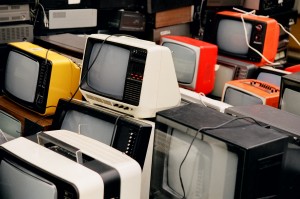 "There are depressed women all over the city doing the exact same thing as her and not calling it art." – Carrie in Sex and the City.
"Ain't none of these guys da Vinci or Shakespeare." – Eine republikanische Kongressabgeordnete in The West Wing.
Wenn man fernsieht, kann man einiges lernen: so auch über Performancekunst. Lächerlich, seltsam, weird, irgendwie anrüchig, potentiell gefährlich und kriminell: Performancekunst kommt in der Regel nicht gut weg im Fernsehen – wenn sie dort überhaupt vorkommt. Schwerer als im Fernsehen hat es die Performancekunst nur im postapokalyptischen Kino – dort gibt es keine Performancekunst, überhaupt taucht Kunst dort nur als Überrest einer untergegangenen Welt auf. Warum gibt es keine Kunst nach der Apokalypse? Und wie würden wir uns wünschen, dass Performancekunst im Fernsehen dargestellt wird?
Massenwirksam und meinungsbildend, entwirft das Fernsehen nach wie vor Narrative für Millionen (Zuschauerinnen bzw. Euros). Ein wichtiger Impuls, wie mit dieser Vormachstellung des Fernsehens und seiner Narrative umzugehen sein könnte, kommt nicht aus der Kunst, sondern aus dem Bereich der Fan Culture: In Form von Fan-Fiction entwerfen immer mehr Fans ihre eigenen, oft subversiven Fortsetzungen, Variationen und Umdeutungen populärer (TV-)Narrative.
Während unserer Residenz am Fleetstreet-Theater haben wir ein Archiv der Performancekunst im Fernsehen erstellt, das wir jetzt in einer Lecture Performance erstmalig präsentieren – First Dates, Morde und abfällige Scherze: alles ist dabei.
Aber dann wollen wir noch einen Schritt weitergehen: in einem Live-Filmdreh entsteht der Trailer für die fiktive Fernsehserie Performance – große Gefühle, Hochspannung, Performancekunst. Die erste Fernsehserie über und mit Performancekunst. Wer will, kann mitspielen.
Mit dabei sind u.a. auch Jörg Thums (red park/irreality.tv), Harder & Schultz, Matthias Anton, Tillamanda, Christoph Strolz und Julia Lerch Zajaczkowska.
12.3.2016, 21 Uhr. Fleetstreet-Theater, Admiralitätstraße 71, 20459 Hamburg. All Welcome!
---
Im Rahmen des Fleetstreet Residency Program
Mit Unterstützung von:
Hamburgische Kulturstiftung
Rudolf Augstein Stiftung