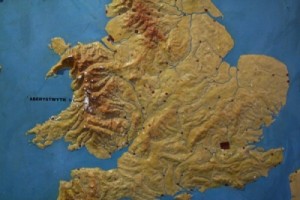 For Crossing Stones (1987), artist Richard Long walked from Aldeburgh on the English east coast to Aberystwyth on the Welsh west coast and back, on each way carrying a stone from one coast to the other. A long walk is a performance about my re-enactment of Crossing Stones. In April 2009, I walked from Aberystwyth to Aldeburgh, thus retracing Long's walk as well as the two places in Great Britain that I have a personal relationship to: the place where I am living now and the place where my grandparents lived and where I would go on summer holidays as a child. That Long's walk coincidentally traces two coordinates of my biography led me to read his documentation of the journey as an instruction.
While acknowledging the ongoing importance and influence of Long's walking practice, this re-enactment also tries to open up new perspectives on some aspects of his work that is characterized by an emphasis on the encounter of a solitary male figure with the landscape. Having re-enacted the walk allows me to raise questions of gender and age with regard to the activity of walking. The performance A long walk reflects on the experiences of the re-enacted walk, combining various elements: documentation of the walk, a travelogue and biographical narrative.
Esther Pilkington 2009
---
A video of A long walk has been published on Issue 11 of the liveartwork DVD.