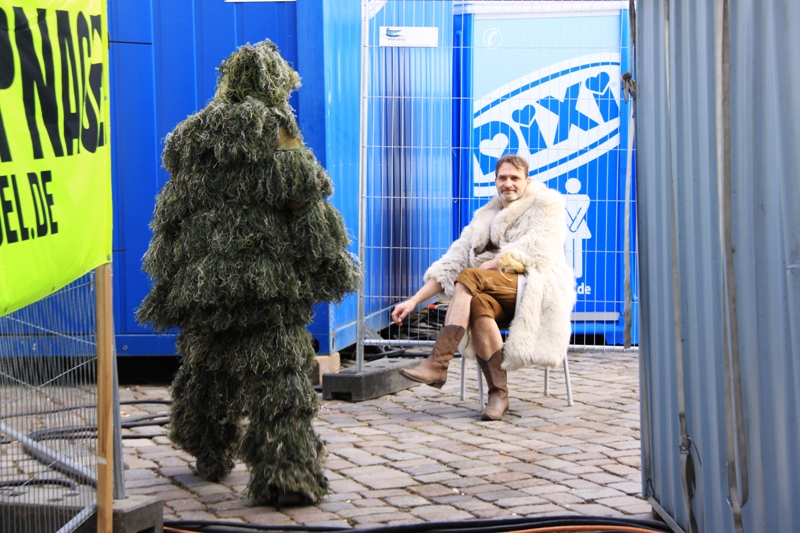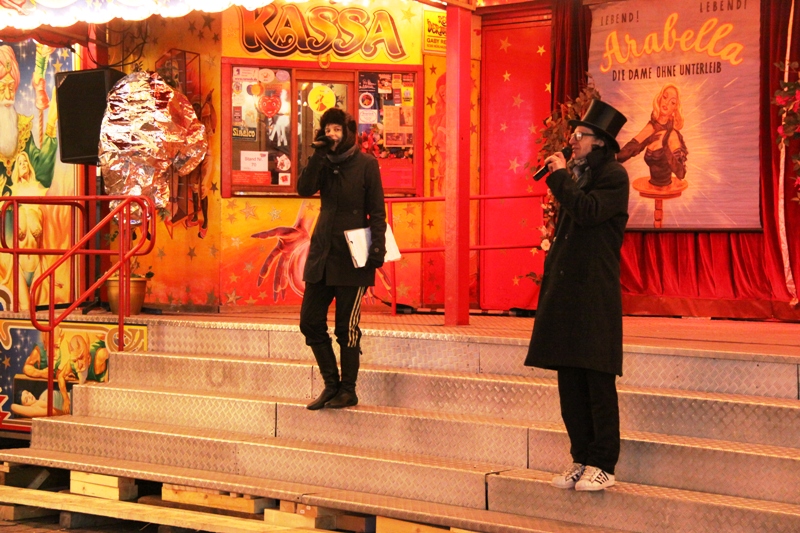 The Cardiff Giant! The Falling Man! The Human Autoscooter! Das tanzende Walross! Performancekunst, Schaustellerei, Spektakel: eine Schaubude auf dem Hamburger Dom, ein wechselndes Ensemble aus lokalen und internationalen Performancekünstlern und -gruppen, ein wöchentlich wechselndes Kurzprogramm in der Tradition der Sideshow, der Illusionsbude und des Wanderzirkus. Zauberei und zeitgenössischer Tanz, Wrestling und Lecture Performance, Re-Enactments klassischer Performances und nie zuvor Gesehenes!
Für einen Monat (22.3. – 21.4.2013) zeigten random people, geheimagentur und Special Guests auf dem Hamburger Frühlingsdom in der Revue der Illusionen ein Performancekunstprogramm – 150 Shows in 30 Tagen, mal für drei, mal für fünfzig Zuschauer und Zuschauerinnen, mal bei Regen, mal bei Sonnenschein, mal bei minus zehn, mal bei plus zwanzig Grad, mal für Familien, mal für Fußballfans, mal für Kunstpublikum. Mal gab es Standing Ovations, mal Zugaberufe, mal Verwunderung, mal wurde das Eintrittsgeld zurückgefordert. Viele kamen wieder. Und zusätzlich zu den geladenen Künstlern und Künstlerinnen wurden dann auch noch spontan unter anderem Elvis-Imitatoren, Beat Boxer, Rüchwärtssprecher, Musiker und Magier direkt aus dem Publikum gecastet.
Special Guests: goodcopbadcop, Manuel Muerte, Florian Feigl, Augusto Corrieri, Corinna Korth, Lars Moritz, Jörg Thums, Mark Harvey / Alexa Wilson, Otmar Wagner, Joy Harder, Supernase&Co / God's Entertainment, Jim Osthaarchic u.v.a.
Eine Koproduktion von geheimagentur, random people und Kampnagel Hamburg.
Gefördert von Kulturbehörde Hamburg, Hamburgische Kulturstiftung, Fonds Darstellende Künste.