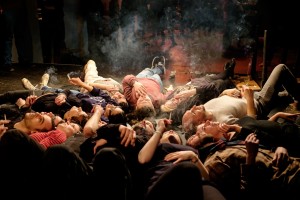 "There are depressed women all over the city doing the exact same thing as her and not calling it art." – Carrie in Sex and the City.
"Ain't none of these guys da Vinci or Shakespeare." – Eine republikanische Kongressabgeordnete in The West Wing.
Wenn man fernsieht, kann man einiges lernen: so auch über Performancekunst. Lächerlich, seltsam, weird, irgendwie anrüchig, potentiell gefährlich und kriminell: Performancekunst kommt in der Regel nicht gut weg im Fernsehen – wenn sie dort überhaupt vorkommt.
Massenwirksam und meinungsbildend, entwirft das Fernsehen nach wie vor Narrative für Millionen (Zuschauerinnen bzw. Euros). Ein wichtiger Impuls, wie mit dieser Vormachstellung des Fernsehens und seiner Narrative umzugehen sein könnte, kommt nicht aus der Kunst, sondern aus dem Bereich der fan culture: In Form von Fan-Fiction entwerfen immer mehr Fans ihre eigenen Fortsetzungen, Variationen und Umdeutungen populärer (TV-)Narrative.
Wie würden wir uns wünschen, dass Performancekunst im Fernsehen dargestellt wird?
Um das herauszufinden, haben wir im Rahmen unserer Residenz am Fleetstreet-Theater (Januar – März 2016) unter anderem Material für den Trailer einer Performancekunstserie gedreht – 2 Drehtage und ein Live-Filmdreh mit Publikum. Mit dabei waren u.a. auch Jörg Thums (red park/irreality.tv), Harder & Schultz, Matthias Anton, Tillamanda, Christoph Strolz und Julia Lerch Zajaczkowska.
Dabei ist Material für mehr als einen Trailer entstanden. Deswegen werden wir hier in loser Folge Performancevideos, Teaser und Trailer für die Performancekunstserie "Performance" veröffentlichen.
Levitation
Eine Performance von Matthias Anton als Teil unseres Filmdrehs im Fleetstreet-Theater, 12.3.2016.
Teaser: Backstage
Harder & Schultz backstage.
Teaser: The Same Amount of Hours
Publikumsperformance als Teil des Filmdrehs für den Trailer der Serie "Performance", Fleetstreet-Theater Hamburg, 12.3.2016.
Musik: Tillamanda